Third Time Thru is a band made up of quite good musicians of "a certain age", who all long ago opted to join the establishment and get day jobs, and who now are expressing their mid-life crises (and in some cases embarrasing their teenage children) by reliving their rock-and-roll fantasies. The band members are all from the Raleigh and Cary area. The playlist of the band has a lot of classic rock and roll, and Motown, but is constantly evolving to include other styles as well (see the "repetoire" tab). We can pull it off live, and we tend to work reasonably cheap in this age of DJ's and canned muzak. This year we finally tried out the fog machine. To our delight, it worked and no one got hurt.
Fan demonstrates appreciative face plant. For full video click the "Listen" tab then click the "Head over Heels" tab.
Glenn says "Don't try this at home."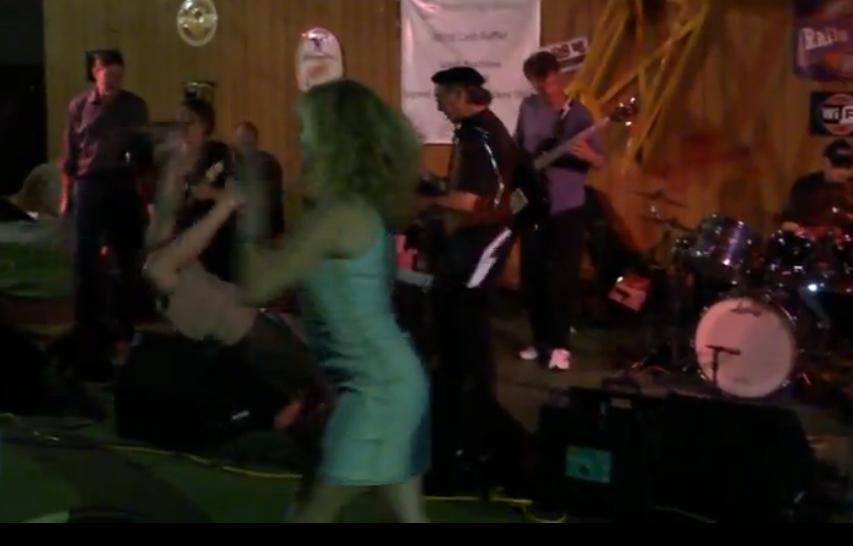 TTT has a long history with drummers named Dave. See if you can spot Dave in these photos that we've taken throughout the years.

Where's Dave?

You have to admit, the rest of us have aged well.

Rock Dave was our long time drummer until he sailed off, twice

Jazz Dave followed but he sailed off in an RV

Delaware Dave.

Drummer Dave Geter and Tom Bundick.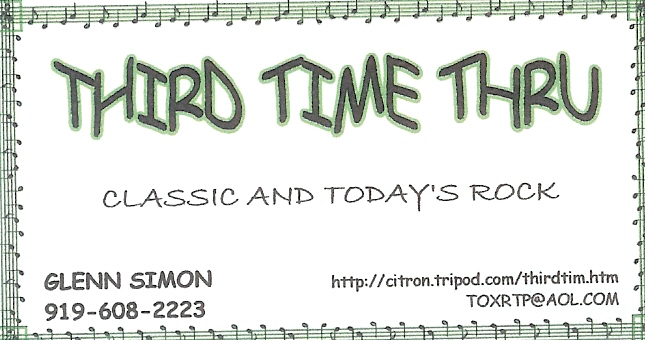 Third Time Thru plays songs from the 60's, 70's, 80's, 90's and the new millennium. Here are some of the songs we do, tried to do, or thought about doing. Follow the hypertext links for the lyrics and chords.

Here's the

stuff we've learned in 2017.
Little By Little (by Tedeschi Trucks)
Graceland
Any Way You Want It
Some Kind of Wonderful
Monster Mash (for a Halloween party)
Keep on Growing
Running Down a Dream
These are the songs we learned in 2015
Till the Love Runs Out (by One Republic)
Lonely Boy (by Black Keys)
Tired of my Tears (Susan Tedeschi)
You Can Go Your Own Way
These are the songs we learned in 2014
Spirits in the Material World
Walking On the Moon
De Do Do Do, De Dah Dah Dah
Message In a Bottle
Boogie Oogie Oogie
These are the songs we learned in 2012
Green Eyed Lady
Footloose
Dynamite
These are the songs we learned in 2011
Freebird
Forget You
Long Train Running
Carry On My Wayward Son
Suite: Judy Blue Eyes
Songs we learned in 2010.
Need You Now
Beat It
Love the One You're With
Songs we learned in 2009.
I Love Rock 'n Roll
I Wanna Rock 'n Roll All Night
Ride Like The Wind
Ready To Run
I Want You To Want Me
Lovin Touching Squeezing
Songs we learned in 2008.
Africa
867-5309/Jenny
Black Velvet
Chain of Fools
Songs we learned in 2007 and perfected in 2008.
Something
Carolina In My Mind
We Are Family
Love Shack
Locomotion
I Second that Emotion
Get Back (the Love Album remix. We already do the original version)
Some Kind of Wonderful
Song we learned in 2006
When Will I Be Loved
Heat Wave
China Grove
Soul Man
Red Rubber Ball
The Weight
Play That Funky Music (White Boy)
Superstitious
Than Ku Fa Let NMe B Mice Elf
Here are the songs we learned in 2005
Get Ready
The Shoop Shoop Song
Just One Look
Ain't Too Proud to Beg
Hey Baby
Here are the new songs we learned in 2004. Most were suggested by the new guys: Daniel and Alan. We wanna make them feel like they belong. Apparently this tactic wasn't enough to convince Daniel to stick around.
Mama Told Me Not to Come
Magic Carpet Ride
Born to be Wild
Pinball Wizard
Couldn't Get It Right
How Far is Heaven
Birthday
These are the songs we learned in 2003
Where Are You Going
Only You Know and I Know
When You Say Nothing at All
Sweet Emotion
Amazed
Tracks of My Tears
These are the songs we learned in 2002
Vehicle
Heard It Through the Grapevine
Sweet Home Alabama
Mony Mony
Tracks of My Tears
Dixie Chicken
Mustang Sally
Happy Together
Hold the Line
My Boyfriend's Back
These are the songs we learned in 2001... somewhat inspired by the release of the Beatles number 1 hits
Get Back
Brown Eyed Girl
Superman
Takin' Care of Business
Mean Mister Mustard
Polythene Pam
She Came In Through the Bathroom Window
Come Together
The Night Before
You're Gonna Lose That Girl
I Can See Clearly Now
Don't Stand So Close To Me
Shotgun
Do You Love Me
These are the songs we learned in 2000
Feelin All Right
Good bye Norma Jean
And I Love Her
Harvest Moon
Teach Your Children
If You're Not in it for Love
Statesboro Blues
Summer of '69
Larger Than Life
I Shot the Sheriff
These are the songs we learned in 1999
Can't Get Enough of Your Love
Smooth (Santana)
I Want it That Way(BackStreet Boys)
My Girl
Day Tripper
Devil With a Blue Dress
Mellow Yellow
Marguaritaville
Wind Beneath My Wings
From a Distance
You've Got a Friend
Sex and Candy
These are the songs we learned in 1998
Celebrate (Good Times)
My Life
Merri's Medley of Jewish Songs
All Right Now
Something to Talk About
The Way
Push
Piano Man
Free Ride
YMCA
Tub Thumpin
3 AM
Strong Enough (featuring Erica)
Get Together
No Matter What
Love Me Two Times
Hold On, I'm Comin'
Rhiannan
Dreams
Change
Taxman
Fly (I Just Wanna Fly)
Wake Up Little Suzie
The Difference
Amie
Here's stuff we've been doing for a while.
Slow Down
Proud Mary
Already Gone
La Bamba/Twist and Shout
Rikki Don't Lose That Number
Heartache Tonight
Down On the Corner
Good Love
Things We Said Today
Honky Tonk Women
Gimme Some Lovin
Summer In the City
Lights
Wipeout
Fun Fun Fun
Surfer Girl
Surfin Safari
Suite Judy Blue Eyes
Helplessly Hoping
You Don't Have To Cry
Black Water
Get off my Cloud
Its All Over Now (because I used to love her... Stones)
Brown Sugar
Old time Rock and Roll
Baby's in Black
Wild Night
Witchy Woman
Desperado
Take It Easy
Runaway
Swing town
Some People Call Me A Space Cowboy?
Don't Stop
Listen to the Music
Last Dance with Mary Jane
Rain King
You Don't Know How It Feels
Mrs. Jones and Me
Good Lovin'
I'm a Believer
---

Songs We Do When Keith is Around (and is feeling confident)
To Find a Friend
Breakfast at Tiffany's (Deep Blue Something)
Crocodile Rock (Elton John)
Your Song (Its a little bit funny...Elton John)
Holding On (Steve Winwood)
I Only Wanna Be With You (Hootie)
That's Just the Way It Is (Hornsby)
Jack and Dianne
Time (Hootie)
Wheel in the Sky
Don't Stop Believing (Journey)
Drowning (Hootie) . we've done this once. It'll sound good if we do it two more times.
---

Songs we like to do, have done more than three times, but still don't sound good on a regular basis
In The City This one sounds good with the current band members
Hotel California
All She Wants To Do Is Dance
Don't You Know What the Night Can Do
---

Songs we've done on occasion, or with a subset of the group, or with previous incarnations of the band
Knights In White Satin
The Question
House of the Rising Sun
Daniel
Dependin' On You
---

Songs We Should Be Able to Do but Can't, or Haven't Tried
Piece of My Heart
All I Wanna Do Is Have Some Fun
Redneck Friend
Gimme One Reason Why
Black Friday
Anything by Loggins and Messina
Anything by Poco
---

Songs We've Done on a Whim, But Never Worked On
All You Need Is Love
Yellow Submarine
Hey Jude
Let It Be
Louie Louie
---

Songs Marc or Cheryl asked us to do, but we refused
Season of the Witch
Wild Thing (This one almost started a band war. We may never do this again)
More Than You Want to Know About Third Time Thru
This page last modified December 2015

Third Time Thru is a working Rock 'n Roll band made up of a bunch of folks most of whom haven't given up their day jobs. Currently no one lives at the TTT commune, where we practice all day long. Merri is a part time resident. She moonlights picking up a few bucks here and there booking high paying gigs for another band (but not us). We've been having trouble keeping drummers recently. Fortunately it seems there's always a drummer named Dave ready, in the wings, waiting to take over. Dave Geter (aka Dr-Dave) is our newest drummer named Dave.

You probably know us from other bands we've been in. Some of us used to be with Merri and the 4 Skins.

Most of us were in J.T. Black and Merri's Boyz. We were once almost known as Yehuda and the Gefilte Fish. Andy used to play with Strollin' While We Can and until recently played lead guitar in the jazz band Oak City Groove. Merri, like Elvis, Prince, Beyonce and Melonie, is one of the few performers who is immediately recognizable by her first name. In her solo career, playing for the old and young (old age homes and puppet shows) she was known as ... Merri. Now that she's joined TTT, she's known as the artist formerly known as ... Merri. Robert used to have a lead part with Marcia and Friends until Marcia and all her friends bailed out. Glenn and Alan banged keyboards and frets for Rhone and the Poulencs. For a short time, Robert and Andy made up the core of the foursome known as the Jody Page Trio. Don most recently played with Skeeter Hawk in Raleigh NC. Because of our troubled history with bass players, we checked Don out thoroughly. We requested a resume, checked out his personal life, his references, and made him pee in a cup. Check out the results.
2015 was a 're-forming' year. We got another new drummer named Dave. For clarity we call him Dr. Dave since D.R. are his initials. A couple of folks retired. Carole retired and un-retired. But now we're ready to start gigging again.
Our bass player saga has finally reached a happy conclusion. Don is still with us and he seems to be having a great time. He's been a positive influence musically as well as screwing with the audio gear and being our recording engineer.
We like to play together every few weeks. We'd prefer to play more often, but its too hard to get us all in the same place at the same time. When we first started playing together, practicing every few weeks was not enough to make progress. The result was we'd play a song 3 times and it would sound good. The next time we got together it was like starting all over again. We'd have to play the same song 3 times before it sounded good. That doesn't work if we're going to play a gig. You only get to do a song once during a gig. However, it did provide a name for the band: Third Time Thru. No matter how much or little we practice, the song sounds good the third time through. When we run short of band members, Will Williams might promise to come sit in (but he usually doesn't). Jazz-Dave Leder used to sit in with us on drums when Rock-Dave was sailing. Ultimately Rock-Dave sailed one time too often and Jazz-Dave replaced him. We won't play for you however, unless you're in the family or ...
We can be talked into doing freebie fund raisers if its a good cause.

Our lineup includes 3 or 4 lead singers (who all want to sing lead on every song), a keyboard player, a bass player, a drummer, 2 lead guitars, 3 or 4 guitars, 4 back up singers, harmonica, and 2 more guys that sing well enough that we're going to take up a collection and buy them some mics. In addition we've got a cowbell, a guerro, knockers (2 sets), tambourines, an egg and a banana! Between Glenn, Andy, Alan and Don we've got the most amazing collection of electronic equipment you've ever seen in a band that plays as infrequently as we do. In 2008 Alan and Glenn chipped in and bought a smoke machine. It remains to be seen when we'll actually use the thing.
Bass Players:
We've been thru so many bass players that they deserve their own section. Here's the lot in historical order
John Wolk, used to play bass with us. Unfortunately he had a lot of trouble remembering to come to practices. In 2001 a tribe of pigs flew over his house and stole all his equipment. So we had to let John go back to selling paint. (The pigs didn't steal the paint... it figures.). Ted Buckner replaced John on Bass. Ted's a real musician who actually had a gig with the now defunct Lula's Birthmark. Unfortunately Ted found he couldn't handle two bands. So he gave up music entirely.
Then Mark Kramer played with us until he had to move out of town in a hurry.
Then Paul Graf did a gig with us. He is currently woodshedding.
We were giving Lang (bless his heart) a chance, but he flew the coop at the first sign of competition.
We played with Bob Blair one time. He sounded pretty good and we had high hopes. As soon as Bob read this website and found out we wanted him because he works for Associated Sound Products and that we wanted to raid his store to create the TTT smoke and light show, he told us to take a hike.
After that we raided the young, multi-talented Daniel Marks from Maje. In 2005 Daniel decided he had enough of us and he hit the road.
For one gig Mike Sullivan joined the band until he decided he couldn't control our practice schedule. That's understandable as we can barely control it ourselves.
So, we went back to John Wolk because we all decided after 5 years, he had matured enough to be our bassman. It was like having the long lost brother we all were waiting for. For a while we were a happy family again.
But alas, John was not to be long with us the second time. It seems that tribe of pigs just kept flying over his house, wreaking all kinds of damage on his ability to come to practice or gigs. Will Williams joined us, on short notice, for our next two paying gigs. After that... we were back to our normal "looking for a bass player" mode.
In late 2007, we placed an ad in the neighborhood newsletter and found a bass player, Bill **** (name obscured to protect the guilty). Bill picked up the songs up quickly. He also had a great work ethic. The problem was that the guy liked to argue. That would be an asset in the Roman Forum perhaps, but not in a friendly rock band that enjoys lively, but upbeat discussions. So we left Bill to the Romans.
Of course that left us in potentially desparate straits. We have a couple of gigs booked, but no bass player. Luckily, during an instant messaging session with a co-worker, Andy's buddy image

led to a music discussion with Don Jones. Andy has worked with Don for a few years in some high stress situations and the guy is dependable and level headed. Plus, it seems he can play bass. He used to play bass and keyboards in a jazz-fusion band. He also plays violin. The thing is, he hadn't played in 20 years. But he talked a good game and told us he was interested in starting to play again. To prove it, he went out and bought a new bass. That, and the fact that he learned the songs in about a second, convinced us to give Don a try. A bit more digging turned up that Don plays keyboards and violin on a regular basis. It was just bass that he hadn't played in 20 years. A year later Don is still working out. We're all hoping this is the final journal entry in the bass player saga.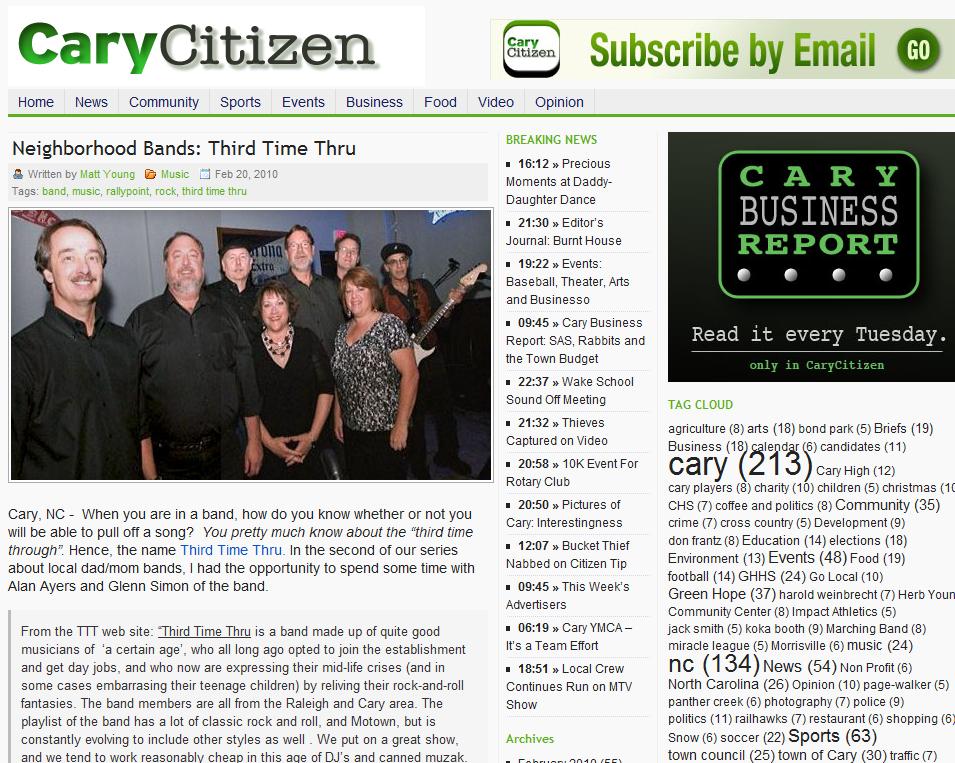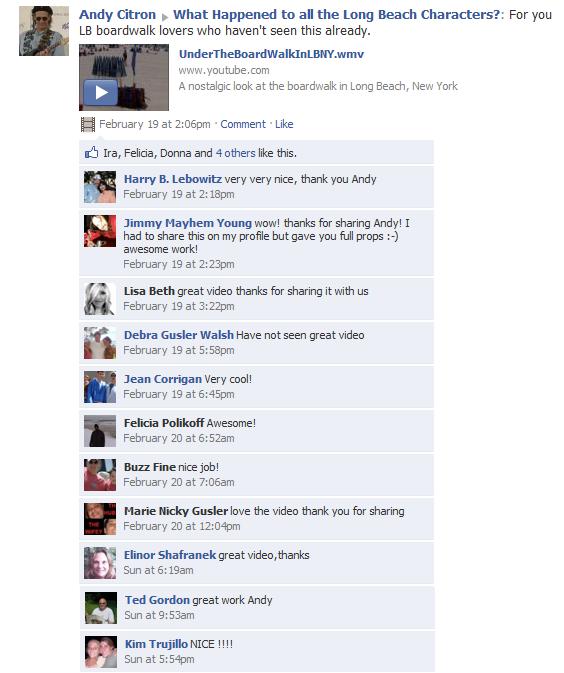 This discussion is taking place in the facebook group "What happened to all the Long Beach Characters?"